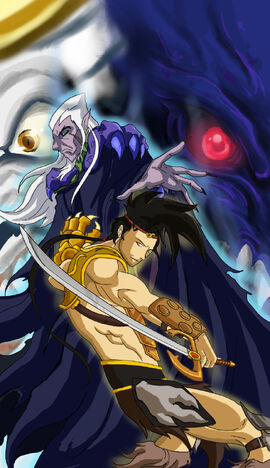 The Beast Legion
Edit
An epic fantasy adventure the follows the exploits of Prince Xeus as he embarks to save his home world from the clutches of the Shadow Nexus.
The Beast Legion : An Introduction
Edit
Launch date: May 24th, 2010 The Beast Legion © is an epic Fantasy/adventure manga created by Jazyl Homavazir that follows the journey of a young Prince who was once forced to flee his homeland of Lithopia after it fell into the Clutches of the Evil Lord Dragos & his band of Shadow Nexus Warriors. The first two issues of the Manga , 'Darkness Rising' & 'The Attack Begins' serve as a prologue to the story. The actual story kicks off with Issue Three: Fond Memories which takes place seven years after the Fall of Lithopia. Raised & Trained by the Last of the Lithopian Wizards, Master Surya, Xeus must now embark on a quest to save his homeland from The Shadow Nexus, but before that he must master the secret powers of the Guardian Beasts Of Lithopia. As he embarks on this quest will make new allies & come accross a plethora of villains.
The significant part of this manga is that each character has a piece of armor that allows them to transform into a particular mystical Beast form with Awesome powers. Not all characters posses these forms.
The Beast Legion © is Available for reading online( Free) as well as available in Print. The Printed versions come with exclusive cover art as well as an Inside pin-up.
Latest activity
Edit